Overview of Disney Resorts
Within Walt Disney World in Orlando, there are 25 and counting official Disney World resorts. They range from budget-friendly (labeled as "Value" by Disney) to luxury resorts ("Deluxe"). Every one of these has a different theme, location and a different set of amenities.
For any one deciding on where to stay for their upcoming Disney World vacation, it can become confusing very quickly when they try to compare all the features, and pros and cons across the hotels.
So here we will rank the different Disney family resorts in their own price category for you. For most people, your travel budget will dictate which category you will book from.
Our criteria for ranking are based on the features that matter most for families with kids and toddlers. To make sure we are picking the best Disney family resorts for this age group (from toddlers to 12 years old), we will be comparing the accessibility at the resorts, their pools, and dining options. I will also tell you why we ranked the top 3 resorts in each category as such.
But before we run through the categories, you may be wondering about the benefits of staying at one of the WDW official resorts instead of the many other choices around Orlando? This post will tell you why.
You should also know that there are two new Disney World resorts being built, opening in 2021 and 2022. Do not miss them later in this guide if you want to take a first peek.
Feel free to skip to each category to see the ranking of resorts:
Table of Contents
Disney Value Resorts ranked
These are perfect for families traveling on a budget with young kids or kids-at-heart, whose number 1 goal is to experience everything Disney. It makes a lot of sense to choose Disney Value resorts for your stay, especially if you think you will be spending most of your time in the theme parks anyway. And even after you are back at the hotel, there are plenty of Disney décor and characters integrated into the architecture everywhere to keep the Disney Magic going all day long.
We rank the Disney Value resorts in this order:
Disney's Pop Century Resort
Disney's Art of Animation Resort
Disney's All-Star Movies Resort
Disney's All-Star Music Resort
Disney's All-Star Sports Resort
Here's why these 3 hotels deserve the top spots:
3. All-Star Movies Resort
Rooms
Why does All-Star Movies stand out from the 3 All-Star Resorts and take the 3rd place in our ranking? Its newly refurbished rooms with a really efficient new layout!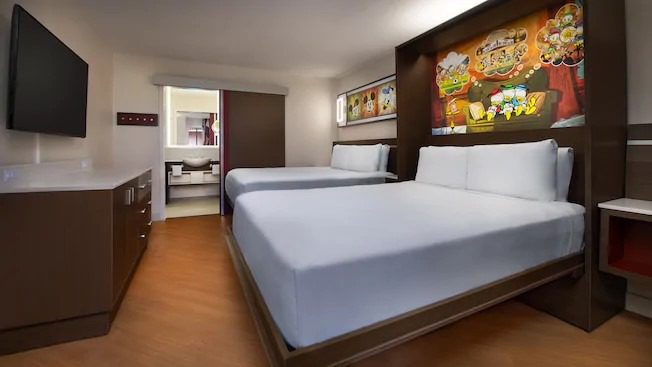 At the time of this post, All-Star Movies is the only All-Star Resort to have fully completed its renovation. We have an in-depth review of its new rooms here. It's true that many of these features that have been brought in aren't unique compared to other hotels going through refurbishments. But all the changes together represent a huge improvement for a property that usually has some of the lowest prices among Disney resorts.
The new layout with the fold-up Murphy bed is a winner in many regards. This change is an important upgrade to the small rooms in the Value resorts to make them feel a lot more spacious for guests.
If you are a solo traveler and will only use 1 bed, you can have the Murphy bed folded up for your entire stay. You will gain back a lot of space that wouldn't be there in a regular 2-bed configuration.
Even if you are a family of 4 with 2 children, this configuration is still a god-send. You can have a bit more room during the day to move around without bumping into each other.
Theme
In addition to the newly refurbished rooms, I also think All-Star Movies has the most impressive theming among the Value resorts for Disney fans. Art of Animation may be a very close tie but I love the larger-than-life Toy Story – Woody, Buzz Lightyear and other character statues throughout the property. They are so remarkable that even if you are not staying at All-Star Movies I think it's worth a visit to the hotel just to check these out.
Pool
The kiddie pool next to the Fantasia pool is probably the best kiddie pool in the Value category. It can cater to toddlers to 3 year-olds easily with a splash pad area as well as a shallow baby pool.
2. Disney's Art of Animation Resort
The Art of Animation resort has a number of positive things going for it, thus securing the second place in our Value Resort ranking.
Pools
The Art of Animation boasts 3 swimming pools and its feature pool "Big Blue Pool" is just spectacular. This pool, at 308,527 gallons, is the biggest resort pool in all of Walt Disney World Resort.
Not only is it massive and great for older kids, it is actually really good for the little ones too. It has zero-entry on one side as well as a very large splash area. That means if you have an older child as well as a toddler, then you don't have to figure how you can split your time at two pools.
Its interactive water play area can keep the kids entertained for a while. The Big Blue Pool also plays music, which delights the kids tremendously.
Note: Check the Disney website for the most current dates and book around any refurbishment if you can.
Rooms
The Art of Animation is comprised mostly of family suites, and there are only a few options at the Disney World property that are not outrageously priced. These suites are themed as Lion King, Finding Nemo and Cars, and they have been just recently refurbished. Even though the refurbishment was not a full-blown overhaul of the interior (compared to the ones at Pop Century and All-Star Movies), but new rooms are still way better than the dated family suites from before.
These suites come with 2 full bathrooms, a kitchenette and can sleep up to 6 people, thus making them an excellent choice for large families.
Food
The Landscape of Flavors food court at Art of Animation is mention-worthy. Its selection is amazing compared to your other food court options on WDW property, but at relatively affordable prices. Head here to see why we think their Landscape of Flavors food court is the best one among the Value resorts.
Transportation
Don't forget Art of Animation's access to the Skyliner which is a huge time saver. In some instances it will open up options for dining and shopping that you wouldn't have otherwise. If you are taking the bus, then its bus stop waiting area is actually covered (rare), and it makes those super sunny or rainy days just that much more bearable.
1. Disney's Pop Century Resort
There are some really good things going for the Pop Century Resort that let it take the #1 spot in Disney's Value Resort category.
Room
All of Pop Century's rooms were refurbished from top to bottom. There's no question all the improvements added up to a major upgrade from the old rooms. This includes the same Murphy bed setup that we already raved about for All-Star Movies above.
Transportation
Disney's Pop Century Resort is the only Value resort with its own bus service. It is also one of the only two Value resorts to have access to the Skyliner, which takes you to Hollywood Studios and Epcot in just a few minutes.
Dining options
Pop Century's own food court Everything Pop Shopping and Dining is already decent and is slightly better quality than the All-Star ones. But with its access to the Skyliner it means you can go to Disney Springs for dinner and shopping easily which widens your dining choices significantly.
If you don't want to venture too far, then you can also head over to the Art of Animation's food court for better variety, which is only a short walk away.
If you are a family traveling with young kids or toddlers, Disney's Pop Century Resort is definitely our Number 1 recommendation to you. But you need to act quickly because whenever there is a sale, the rooms at Pop Century tend up get booked up first.
Disney Moderate Resorts ranked
As its name suggests, Disney's Moderate resorts are in the middle ground both in terms of budget and the comfort and amenities they offer. That makes them a great combination for many families with little ones as well as well as adult couples without kids.
In general, the Moderate resorts, except for French Quarter, are some of the largest resorts at Disney World. Each resort, with its vast property and long walking trails, will make you feel like you are far far away from Disney World.
The ranking for the Moderate resorts was more difficult to make than the Value resorts. But after considering the factors that matter most for families traveling with kids, we rank the Moderate resorts in this order:
Disney's Caribbean Beach Resort
Disney's Port Orleans Resort – Riverside
Disney's Coronado Springs Resort, including the Gran Destino Tower
Disney's Port Orleans Resort – French Quarter
Let's look at why we ranked them this way:
3. Disney's Coronado Springs Resort, including the Gran Destino Tower
Rooms and hotel style
The Coronado Springs Resort's style is inspired by the Spanish, Mexican and Southwest cultures. Because the hotel has a convention center on site, the list of amenities is more extensive than your average Moderate resort. For example, there is a salon, a spa and a fitness centre at Coronado Springs.
Not everyone liked the addition of the new Gran Destino Tower, which opened in July 2019. Aimed at convention attendees and not at vacationers, many people think the hotel style doesn't fit in with the rest of the Disney and vacation theme.
On the other hand, to cater to this crowd, Disney has made the rooms some of the nicest in Moderate Resort category.
To give you an idea, Disney has decided that the new 15-story Gran Destino Tower will serve as the main entrance for both sides of Coronado Springs. The entrance is a grand two-story lobby (think Grand!).
The new tower adds another 545 rooms (including 50 new suites) to the property. That should give you an impression of the style of the resort.
Food selection
Similarly to cater to the convention crowd, Coronado Spring's dining options are also unmatched in the Moderate Resort category. The original Coronado Springs has 2 table-service restaurants and a bar. At the new Gran Destino Tower, you will find a rooftop restaurant (Steak & Seafood) as well as a coffee lounge that serves double duty as a bar at night.
Some people don't want a Vegas style stay during their Disney vacation (which I can totally understand). The nicer rooms and longer list of amenities can be a plus for many others. Especially if you are a group of adults doing a Disney World vacation, I would highly recommend Gran Destino as your resort choice. You will appreciate the dining and drinking options right at the resort even late into the night.
But our ranking takes the perspective of families with kids and toddlers, so this hotel will have to take the 3rd place in our ranking.
2. Disney's Port Orleans Resort – Riverside
Turning away from the glamour at Coronado Springs, we will head to the stunning manicured grounds in Louisiana. Disney's Port Orleans – Riverside's theme is spectacular in many ways. Unfortunately, all the picturesque water mills, waterways, and magnolias are not necessarily appreciated by most young kids.
Rooms
Following its sister hotel (French Quarter)'s foot step, a refresh has been completed in many of the rooms at Riverside. The refurbished rooms generally run a subtle elegant theme. They now come with new "hardwood" flooring, power and USB outlets, and reupholstered chairs and sofas.
Transportation
In addition to buses, there is also a convenient boat transportation to Disney Springs (downtown Disney), where most of the shopping and dining is.
Food
You will find both fine dining and quick service restaurants on site. Most people consider the dining options at Riverside a notch better than the other Moderate resorts. There's a delicious made-to-order pasta at the Riverside Mill Food Court but be prepared for a bit of wait. And you should expect nothing but tasty food and good service at Boatwright's Dining Hall. Definitely try to use your Disney dining plan here.
Pool
Riverside's main pool features an old-fashioned swimming hole complete with a sawmill water slide. Preschoolers will love spending time at the Doubloon Lagoon, which includes a splash pad, kiddie pool, and a giant sea serpent slide.
There isn't one single thing at Riverside that is extraordinary; but their rooms, food, pool and transportation are all above average compared to the other Moderate Resorts, and that combination makes Riverside take the second place in our ranking.
1. Disney's Caribbean Beach Resort
The tropical paradise/pirate themed Caribbean Beach resort is made up of 6 villages named after the Caribbean islands – Aruba, Barbados, Jamaica, Martinique, Trinidad North, and Trinidad South. Imagine swaying palm trees, white-sand beaches, and colonial buildings on a 200-acre lush landscape.
Transportation
There are a number of good things that Caribbean Beach Resort has to offer. But most importantly, the Caribbean Beach resort is the only Moderate resort with access to the Skyliner, giving you quick access to Epcot, Hollywood Studios, and Disney Springs. The station was only brought in during 2019 and so don't take it for granted that it was always available.
Pool
Next, Caribbean Beach's feature pool Old Port Royale is a definite highlight. "Fuentes del Morro Pool," themed after a colonial Spanish fortress, (imagine Pirates of the Caribbean). It is tons of fun with waterfalls, water slides, and shooting cannons. The adventurous young ones have not only one, but two water slides to choose from, with one of them measuring 102 feet long. One side of this pool is zero entry which makes this a viable option for younger kids too with supervision.
But if the big pool is too deep, then there's also a pirate ship splash pad to keep the young ones happy. And toddlers are not going to miss out on sliding actions – they have their own mini slides to play with, safe from the older kids running around at the bigger pool.
What about adults? You can hop into the 12-person spa pool and relax, drinking cold drinks that are available from the Banana Cabana pool bar right next to it.
All of this is in addition to 5 other swimming pools that you will find at each village. Remember this resort is huge.
Rooms
All of the rooms at Caribbean Beach Resort went through refurbishment (only fully completed in 2019). Disney replaced the old furniture with 2 queen beds as well as other furniture and soft goods. The modern décor is subtle with a bit of Caribbean vibe, and is nice enough to be almost Polynesian-Lite standard. (Polynesian is one of the top Disney Deluxe resorts, which is usually 2 to 3 times the price of rooms at Caribbean Beach Resort).
Select rooms have the extra Murphy bed that can sleep a 5th person after you pull it down. So this gives some families an extra option.
If you are going to book from Disney's Moderate category, then we recommend that you go with the Caribbean Beach, even if it's merely for its access to the Skyliner. The convenience is tremendous, and I can't emphasize enough what benefit this will be for families with young kids and toddlers.
Disney Deluxe Resorts ranked
While you are paying a premium to stay at one of Disney's Deluxe resorts, you can also expect top notch quality in comfort and amenities from any of them. At Disney World there are 8 Deluxe resorts for you to choose from.
One of the most important things the Deluxe Resorts offer is its convenient transportation options as well as proximity to the theme parks. I've stressed the importance of accessibility numerous times. It should be a huge factor to consider for any families bringing young kids to Disney World.
I've got a handy summary here that summarizes your transportation options at the Deluxe Resorts.
Bus
Boat
Monorail
Disney's Animal Kingdom Lodge
Yes
Disney's Beach Club Resort
Yes
Yes
Disney's BoardWalk Inn
Yes
Yes
Disney's Contemporary Resort
Yes
Yes
Yes
Disney's Grand Floridian Resort & Spa
Yes
Yes
Yes
Disney's Polynesian Village Resort
Yes
Yes
Yes
Disney's Wilderness Lodge
Yes
Yes
Disney's Yacht Club Resort
Yes
Yes
It's interesting to note that none of the Deluxe Resort has access to the Skyliner, which I think would have been a great enhancement to any of these hotels.
There is a Skyliner stop at the new Riviera Resort.  But that is considered a Deluxe Villas and will be covered under a separate post.
If you know you have a favorite theme park and will be spending a lot of time there, then you want to take that into consideration as well:
If you need easy access to Magic Kingdom: You can choose to take the monorail from Disney's Contemporary, Polynesian and Grand Floridian Resorts. If you are at the Polynesian and Grand Floridian, then you can also take the boat to Magic Kingdom instead. Last but not least, it's also walking distance from the Contemporary and Grand Floridian.
If you are looking for easy access to EPCOT & Disney's Hollywood Studios: Either take the boat or walk from Disney's Yacht and Beach Club Resorts and Disney's BoardWalk Inn.
Want to stay close to Animal Kingdom? Disney's Animal Kingdom Lodge is the closest Deluxe resort. In fact, you can see the safari every day out of your window.
Ranking Disney's Deluxe resorts is an extremely difficult exercise. The best Deluxe resort for your family will depend on your personal preference including if you plan to spend more time at a certain theme park over another.
I ended up picking what I would've personally gone for if my 2 children were still small kids and toddlers. Here's the Deluxe resorts ranked:
Polynesian Village Resort
Contemporary Resort
Animal Kingdom Lodge
Wilderness Lodge Resort
Grand Floridian Resort and Spa
Boardwalk Inn Resort
Beach Club Resort
Yacht Club Resort
Let me share with you why Polynesian, Contemporary and Animal Kingdom took the top spots.
3. Animal Kingdom Lodge
While I absolutely loved Animal Kingdom Lodge when we stayed there a few years ago, I have to admit its location isn't its selling point. Sure, you are only a short distance away from the Animal Kingdom but that means you are a fair distance away from everything else in the Disney World.
The safari
Our room was in the Jambo House with the Savannah view. Waking up every morning and seeing giraffes eating their first meal of the day right outside your balcony is an experience we will never forget.
We also saw zebras and other animals and those were harder to make out as they were farther away from us. Of course we got a close up of them later when we went to the Animal Kingdom.
We took the bus for most of our needs and didn't regret our resort choice. These days I would probably opt for the Uber instead for a few of those trips. I don't think you need to do that every single trip but waiting for the bus during peak hours with 2 tired kids can be somewhat taxing.
Décor and Theme
Looking at the bright side, this is the best themed Disney resort in my opinion, across all Disney Resort categories. The central grand atrium was magnificent to start with, but after its renovation it's now just spectacular. The African theme that is woven into the many aspects of the architecture and décor throughout the property is also very impressive.
And I must note that many of the rooms at Jambo House had just gone through a face lift very recently. So some dated old furniture have now been replaced which have made the rooms newer and nicer.
Pools
One of the better resort pools in all of Disney Resorts, the 11,000 square feet feature pool at AKL – Uzima Pool- is stunning and is lots of fun for all ages. It has one water slide and its resemblance to a natural watering hole will keep the older kids entertained. But it also has a very gentle slope/zero-depth entry for younger kids. This is in addition to a wading pool and 2 whirlpool hot tubs.
I have to mention a second pool at AKL, the Samawati Springs Pool, in the Kidani Village as well. Although this pool is not as big as the Uzima Pool, the water slide at Samawati Springs is 128-feet long which makes it twice as long as the one at Uzima. This also comes with a zero-entry side as well as a kids splash area. So if you are staying at Animal Kingdom Lodge, then you have two very decent pool choices at your disposal.
On top of all of these, AKL also has 3 solid dining options: Jiko, Sanaa, and Boma. (Definitely try the buffet restaurant – Boma, which is open for breakfast and dinner), With all of these to offer, Animal Kingdom Lodge can easily take the #3 spot in the Deluxe ranking (but unfortunately not any higher due to its location).
2. Contemporary Resort
Location and transportation
Its location right next to the Magic Kingdom is likely the top reason that draws many guests to the Contemporary Resort each year. The hotel is central to many places that you would likely visit during your Disney stay.
Magic Kingdom is either one monorail station or just a short 10-minute walk away. The latter is what really makes the hotel stand out compared to most other Disney resorts. All else being equal, you likely want to pick a hotel close to Magic Kingdom than any other theme parks at Disney World.
On one hand, the Magic Kingdom happens to be the most difficult theme park to get to and from. But on the other hand it is also the theme park that most families will visit at least twice. So it is obvious that Contemporary has a distinct advantage in this regard.
The famous monorail station at Contemporary runs right through the Resort. If you continue on the Monorail you will reach EPCOT. Taking either the Monorail or a boat ride, you can easily get to some of the other resorts in WDW.
Dining options
The different dining options at Contemporary are more than decent, with options going from food court to table service. Everyone knows the California Grill is known for its view of the Cinderella Castle during fireworks. Do not miss the amazing Sunday brunch there either. Both the California Grill and Contempo Café are excellent choices for meals. And Chef Mickey will be your choice for breakfast if you want to meet Disney characters.
Along with 2 very nice swimming pools, and decent-sized hotel rooms, the Contemporary Resort has a long list of features to offer young families.
1. Polynesian Village Resort
We chose Polynesian Village Resort as the Number 1 of all Disney Deluxe resorts for kids and toddlers. The reason is simple, it is one of the top 2 hotels at Disney World all these years for a reason. While the resort theme is laid-back fun, you can still feel the upscale luxury built into every thing you see and use. And the Grand Floridian costs generally 20% more than the Polynesian Village for any comparable rooms.
Location
We talked about why it's important to access MK easily when you have young kids in tow. The Polynesian is only 2 stops from the Magic Kingdom on the monorail. And while it's not mission critical, Polynesian also has a walking path leading to the Ticket & Transportation Center, which gives you access on the monorail to Epcot.
If you have one of the rooms facing the lagoon (directly at the castle), you can likely have your own gorgeous but silent fireworks show from your balcony. And if that's not possible, you can still catch the fireworks and the boat parade from the hammocks in the beach area.
Pool
The hotel's main feature Lava Pool is ranked consistently as one of the best pools in the Disney World. It has a towering volcano, a waterfall plus a thrilling 142 foot-long waterslide. The theme (especially after the renovation) is very imaginative and tons of fun for the kids.
Set on the Seven Seas Lagoon across from Magic Kingdom, the Lava Pool likely has the best views of any swimming pool at Disney World. Little ones can either take advantage of the zero-depth entry point to the Lava Pool or the Kiki Tiki's splash play area nearby. Of course, there's also an infinity-edge hot tub for the adults. No wonder this Polynesian pool is considered one of the top pools in the entire Walt Disney World property.
Dining
Polynesian is home to 2 hugely popular restaurants. 'Ohana is your go-to restaurant for character dining. Your little ones will be delighted with Lilo & Stitch's appearance at breakfast. And the family-style luau dinner show at Spirit of Aloha is very fun and entertaining. In addition to these 2 you will find a handful of other dining choices ranging from snack bars, cafes to restaurants.
The Polynesian gets compared to the Grand Floridian often and each has its own loyal fans. A big factor for us was whether there was enough of a difference to justify the 20% average premium in Grand Floridian's room rates and the answer was no. That's why the Polynesian takes the top spot in our Deluxe Resort ranking.
The absolute best Disney resort for kids?
Everyone has their own favorite. The ranking presented here is based on factors important to a typical family with young kids, as well as what would likely appeal the most to my own kids when they were younger.
Your family's preferences and habits, as well as your budget, should play a large role in your decision. While we did rank each hotel, in our review, we also give you all of the information and reasons for you to make your own conclusion. I hope the information that I've summarized here will help you make that decision easily.
Visit my in-depth guides for the different Disney's Resorts to weigh the pros and cons of each. Armed with the right information then you can settle on the best option for your family trip to the Disney World.
You will probably be interested in checking out our
Disney Value Resorts Guide – Family Edition
Resorts Under Construction
These are the 2 hotels being built that Disney fans can look forward to.
Star Wars: Galactic Starcruiser
You can already guess that this new luxury Disney resort will be themed as a Star Wars cruiser. It will be one heck of a cool experience. Guests living onboard this star cruiser in "passenger cabins" will have their own window looking into the galaxy.
The resort stay will be apparently a 2-day 2-night immersive experience. This is quite different than what anyone's has seen in the market so far. Speculation puts the price tag above $3,000 per person for the experience, and Disney said they will start taking reservation for this later in 2020.
Reflections – A Disney Lakeside Lodge
Situated between the Wilderness Lodge and the Fort Wilderness Resort & Campground, a new resort carrying the nature theme will be coming online.
The opening date was slated for 2022. But I would no longer put that as high probability as all construction/renovation schedules at Disney World seem to be pushed out. The Disney Lakeside Lodge will add 900 more rooms as well as DVC (Disney Vacation Club) villas. Many people are anxiously waiting to see how it will fit in or any impact it will bring to the other 2 properties in the area.
Do you need tickets to Disney World for your family? Grab them online ahead of time to save both time and money!
Save $53 on Disney World 4-Day Park Hopper!
Looking for information on Disney campsites or Disney Deluxe Villas, including the brand new Riviera Resort? They are both in a class of their own and deserve their own dedicated posts.
source: Disney resorts
Mother of 2 who disguises as a 9 to 5 finance professional on most days. She loves to travel, is an amateur website builder and cook. And given her day job, she loves travel planning and saving money. Follow along!