Disney has made sure guests have plenty of options when they choose from one of the 25 Disney Resorts at Walt Disney World. They range from budget-conscious "Value" Resorts to the luxurious "Deluxe" Resorts. But because there are so many which one should you book?
There are a few extra perks that come with staying at one of these hotels when you are visiting Disney World. So you have made a smart decision by checking out the WDW resorts. There are good reasons why these hotels fetch a premium compared to other non-Disney hotels in the Orlando area.
If you are traveling on a budget, or would rather allocate more of your budget to spend at the theme parks, then you've come to the right place – the Disney Value resorts. The set of perks you get from staying at a Disney Resort are the same across all price categories. What's more, if you have young kids and want to keep the Disney Magic going outside of theme park hours, then the Value resorts have the most dramatic and kid-friendly themes compared to the other Disney hotels.
We will go through each of the Disney Value resorts below and compare their features and amenities. But check out our post here for the best Disney resorts for kids across the price categories. You will see these Value resorts ranked specifically with families with kids and toddlers in mind.
Table of Contents
Overview of Disney Value Resorts
These are the 6 Value hotels at Disney World as classified by Disney:
Disney's All-Star Movies Resort
Disney's All-Star Music Resort
Disney's All-Star Sports Resort
Disney's Art of Animation Resort
Disney's Pop Century Resort
The Campsites at Disney's Fort Wilderness Resort
Disney has included the Campsites at Fort Wilderness in the Value category. But most of us wouldn't really when we think of the Value resorts. The Campsites are pretty much in a class of their own and are not for everyone. Therefore we will not touch on it in this post but maybe one day I will do a stand-alone post just for the different campsites at Disney World.
The dining options at the Value resorts are somewhat limited —food courts, pizza delivery, and no real restaurants. Each hotel has more than one pool. All of them put on games and activities poolside, along with Movies Under the Stars. Do not bother looking for slides in the pools; those aren't available at the Value resorts.
Reminders: Disney provides towels and flotation devices for the young ones at their pools. Lifeguards will be on duty during opening hours.
The main mode of getting around at these resorts is the shuttle bus. Disney's Pop Century Resort and Art of Animation have access to the new Skyliner, which can whisk your family to both Disney's Hollywood Studios and the second entrance of Epcot in just a few minutes.
All-Star Movies Resort
Rates: $112 – $241
Theme:
With the great repertoire of Disney movies, a movie-themed Disney resort would have plenty of designs and ideas to incorporate into its buildings. The All-Star Movies is filled with décors such as 101 Dalmatians and Andy's Room from the Toy Story, to pay tributes to the different legendary Disney films.
The resort has five three-story buildings: Toy Story, Fantasia, Love Bug, 101 Dalmatians, and The Mighty Ducks. The theming is both adorable and impressive.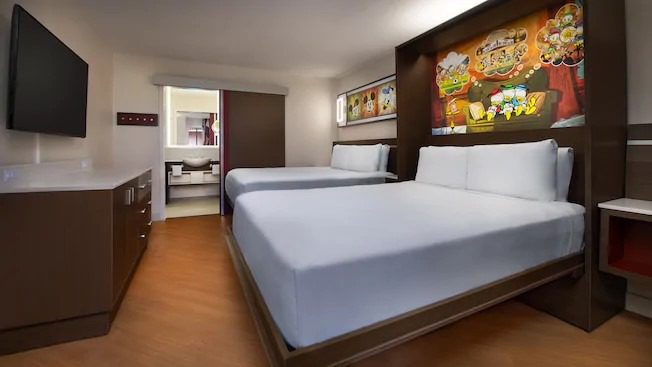 This resort was the first of the All-Star Resorts to be refurbished. The work is now mostly complete and the remodeled rooms are a huge upgrade compared to the old ones.
The Toy Story section of this resort is very impressive. I recommend that you check it out even if you are not staying at this property. This is easily young kids' favorite Disney resort just from its theme and décor.
Food
The World Premiere Food Court has 5 stations. You will find pizza, pasta, grill items, specialties, bakery items, and ice cream. Your other choice for meals is just pizza delivery as the Silver Screen Spirits Pool Bar does not serve food.
The food court has a decent breakfast selection but can get very crowded around primetime (8am to 9am). You may find the lunch and dinner options to be somewhat limited (which is common across the Value resorts).
Check out the menu at World Premiere Food Court here.
Insider Tip
Don't forget to check out the cinnamon roll cheeseburger from the secret menu. "What?" You say. Yes, head over here to find out how to order from the secret menu.
Pools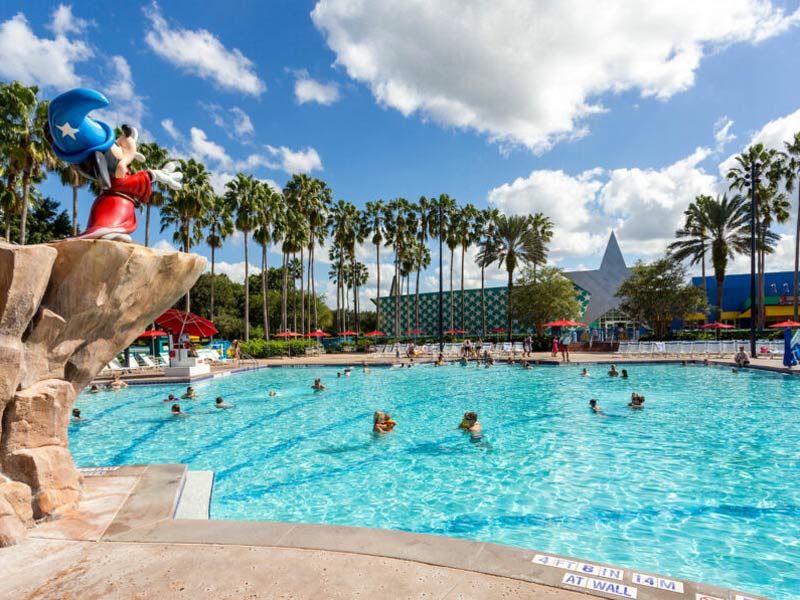 The expansive main pool here is based on Fantasia theme, and features a Sorcerer Mickey fountain shooting out streams of cold water. Note though this pool is not kept very warm all the time.
But it's most likely the kiddie pool nearby that would attract families with toddlers and babies. It's one of the best kiddie pools in all the All-Star resorts as it has both a splash/water jet pad area and a shallow baby pool for your little ones.
Insider Tip
If you feel the Fantasia pool is a bit chilly, head to the other pool where the water is usually warmer.
The second pool is called Duck Pond Pool, and it's more than an adequate choice for relaxing at the end of the day. As you can guess by the name, it is inspired by the Mighty Ducks, and is shaped like a hockey rink. There's plenty of seating in this area and it's usually quieter than the Fantasia pool.
Insider Tip
The 3 All-Star Resorts share buses. During busy times when the buses get really full, sometimes they end up skipping All-Star Movies. Regardless of the reason, guests may experience a long wait for buses. There are 2 things that you could try:
1. All-Star Music is a relatively short walk away, so you could try to hop on the bus for All-Star Music instead.
2. When your wait is excessive and you are in a bind, tell the hotel staff. Sometimes they will make an alternative transportation arrangement for you.
Activities
The playground at this property can be found between the Fantasia and Toy Story sections. Older kids may appreciate the Reel Fun Arcade, near the food court.
Movies Under the Stars location: right outside of World Premiere Food Court.
All-Star Music Resort
Rates: $112 – $245
Suite Rates: $289 – $547
Theme
You may find the theme at All-Star Music resort a little whimsical, featuring music from different genres, from country, jazz to rock 'n' roll.
For large families, All-Star Music is one of the few resorts at Disney World with family suites. These "2-room" family suites have 1 queen bed in a bedroom. In the past before refurbishment, the "family room" would have a twin sleeper chair, a double sleeper sofa, and a twin sleeper ottoman.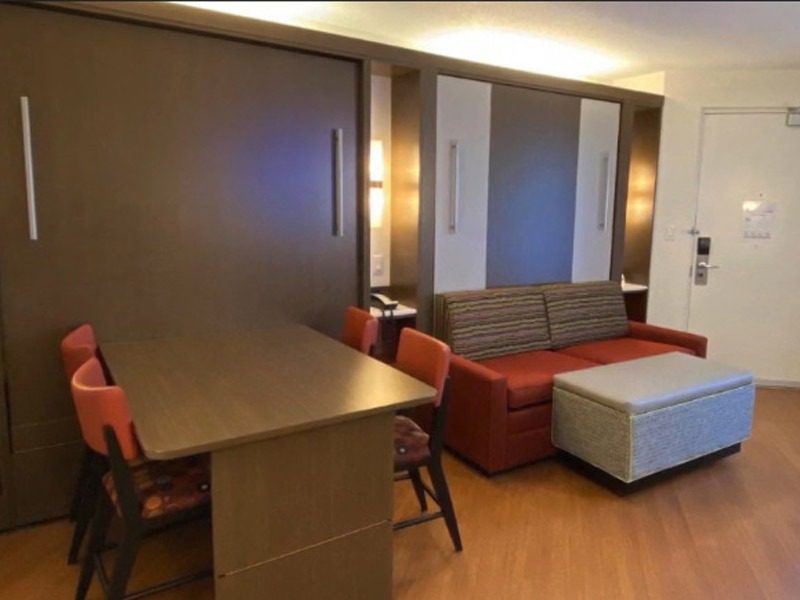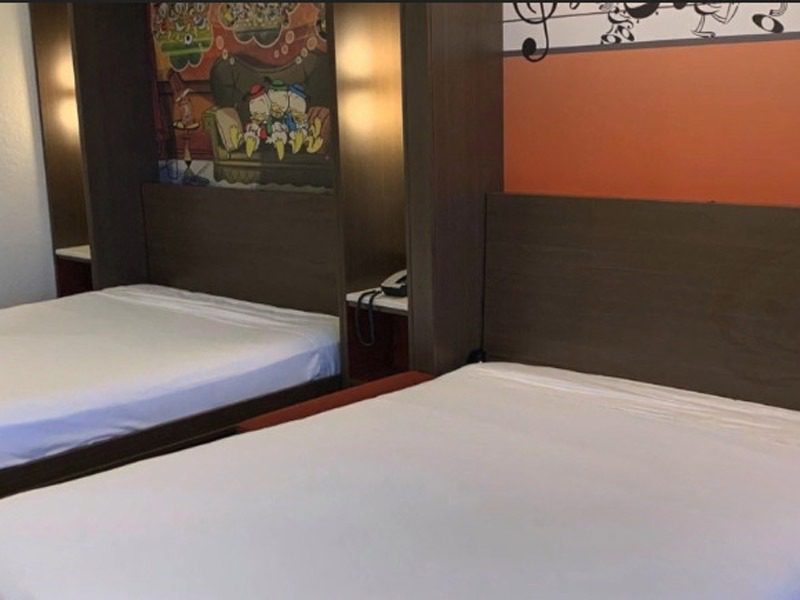 This is now replaced with 2 queen fold-down Murphy beds in the remodeled rooms. Most people agree this is a huge improvement.
With these, the suites can sleep comfortably up to 6 people. It comes with a kitchenette and 2 bathrooms. They can sometimes be priced a bit lower than the family suites at the Art of Animation. The suites at All-Star Music were previously sub-par compared to the ones at Art of Animation but I think that's arguable now.
Food
All-Star Music has a remodeled food court featuring a number of serving stations plus a deli-style market. You will also find the usual such as burgers, sandwiches, and pasta. Similar to the other Disney Value resorts, some think the variety of food options is very limited. It's okay to eat some meals here but you probably don't want to stick with this one food court on a daily basis.
Check out the menu at Intermission Food Court here.
Pools
The main feature Calypso Pool is a guitar-shaped pool with a fountain of the Three Caballeros—Donald Duck, José Carioca, and Panchito—playfully spraying water at swimmers. There are lounge chairs surrounding the entire pool.
A shallow kiddie pool is located nearby, at the top stock portion of the Guitar pool.
The second pool at All-Star Music is a piano-shaped pool with a watering hole, featuring Ariel.
If the piano pool is not to you liking while the Calypso pool is closed, guests are welcome to head to All-Star Movies' and All-Star Sports' pools instead.
Activities
There are also Movies under the Stars (outside, by the Intermission Food Court at the Calypso Pool).
Playground location: near the Jazz Inn section.
Arcade location: Melody Hall building, adjacent to the food court.
All-Star Sports Resort
Rates: $112 – $245
Theme
All-Star Sports, with its sports-based themes such as baseball and basketball, inevitably attracts many teenage athletic and cheering team bookings each year. So you should know sometimes it can get noisy.
The hotel's sports theme and the football field are quite remarkable. But if you generally prefer more Disney character magic, then the other Value resorts will likely serve you better.
Along with All-star Music, these 2 are the oldest properties and therefore had the worst room conditions. As I mentioned, a good number of All-Star Music's rooms are already renovated. It was the last of all the All-Star's to be refurbished.
Food
All-Star Sports also has a remodeled food court featuring burgers, pizza, and smoothies.
Check out the menu at End Zone Food Court here.
Pools
The main feature pool is Surfboard inspired and is huge.
Despite this, the pool sometimes still gets crowded and loud. The resort's second Grand Slam pool is baseball-themed with Goofy squirting water at young kids.
Activities
Located near the Touchdown! hotel area you will find a playground where young kids can climb and slide. There's also an Arcade for slightly older kids (in Stadium Hall, by the food court).
Movies under the Stars location: outdoors on the football field.
Insider Tip
Try to get a room for Building 9 close to the small pool if you are worried about noise. There is a cut through to catch the buses.
Disney's Pop Century Resort
Standard Room Rates: $154 – $316
Theme
The Pop Century resort's theme is American pop culture and Disney has done a good job blending Disney and pop together. This is one huge property with over 2,800 rooms. The rooms here were remodeled back in 2018. They usually come with 1 queen/king bed and 1 queen Murphy Bed.
Insider Tip
Since the property is huge, you may want to book a Preferred room to make sure you are close to the Main building (Classic Hall).
Food
Tthe food court selection is quite decent and is above average compared to the other choices in this category. The quality is also above average.
Check out the menu at Everything Pop Shopping and Dining here.
Insider Tip
Being close to the Art of Animation means you can hop over to their Landscape of Flavors Food Court easily. (See below why it is an excellent choice for meals in this category.)
Insider Tip
Do not miss the famous Tie-Dyed Cheesecake. You can find this cheesecake at Everything Pop Shopping and Dining.
Even though the look of the cheesecake is quite a bit different than 10 years ago, it is still very much one delicious treat.
Pools
Being this big means Pop Century comes with 3 pools on the property. As you approach the hotel's main feature pool Hippy Dippy pool, you will be surrounded by disco dancers and colorful tie-dye from the 1960's.
Bring your toddlers to the kiddie splash pad behind Hippy Dippy, which has a pop-jet water feature and zero-entry. It makes it so much easier for the little ones to get in and out by themselves.
Note the Hippy Dippy Pool is currently closed for refurbishment.
There are 2 other pools – 1 is the Computer pool near the 80s building and the smaller 1950's Bowling Pool.
Activities
Daily onsite activities include trivia, bingo, and poolside dance parties. They would also do the "Name That Tune" tournament near the Hippy Dippy pool.
Location of Movies Under the Stars: by the Hippy Dippy pool.
Location of playground: located in the '70s section.
Location of Fast Forward Arcade: in the Classic Hall building, adjacent to the food court.
Pop Century's access to the Skyliner could make a huge difference for families with small kids. Art of Animation is the other only Value hotel with this access.
Insider Tip
Get a room in the '60s if you want to be the closest to the Skyliner.
If you are interested in getting your hand on the popular free Disney Dining plan, you should know Pop Century is almost never excluded from the promotion. This could make a large difference in your costs at the end of the day.
Disney's Art of Animation Resort
Rates: $180 – $330
Suite Rates: $428 – $771
Theme
This is the newest Value resort at Walt Disney World Orlando, which opened in 2012. You will find storybook landscapes everywhere from classics such as Finding Nemo, Cars, The Lion King, and The Little Mermaid.
This resort is made up of mostly "2-room" family suites that can sleep up to 6, so it can be really popular for large families. That's because if you have a large family or big party in your group and you don't want to split up, then you have limited options for where to stay at Disney World.
In these family suites, you will find 2 bathrooms, a kitchenette, a mini-fridge and microwave as standard amenities.
Many of the standard rooms and family suites have been refurbished. Note these are not full remodels but a refresh (such as new flooring, USB ports, paint, and new mattresses) which is still very nice.
The family suites are themed as Lion King, Finding Nemo, and Cars. The usual configuration is one queen bed, one queen Murphy bed, and a sofa bed. While that configuration sounds very good it comes at a high price tag. Even with 20% off (which happens every so often), these suites can cost more than booking 2 rooms at the other Value resorts.
Insider Tip
While the Art of Animation family suites are expensive compared to the other Value resorts, its price is often comparable to the cost of one standard room at a Deluxe resort.
There are also a few standard rooms in the Little Mermaid area but you might as well stick with Pop Century if you are looking for a standard room.
Food
As mentioned earlier, the Landscape of Flavors food court here is mention-worthy. Its selection is plentiful compared to your other options in the Value category. It has 5 distinctive food shops and can serve fresh, made to order meals.
Anyone staying at Pop Century should take advantage of the proximity and come to try Landscape of Favors at least once. Watch this video to check out Youtuber Bubba Ray Biscuit "build your own pasta."
Check out the menu at Landscape of Flavors here.
Pools
There are 3 pools at Art of Animation. The feature pool "Big Blue Pool", inspired by Finding Nemo, is spectacular and would be really fun for kids and toddlers. It has zero-entry on one side (a rare find in the Value resorts) and a very large splash area. It has an interactive water play area and also plays music, which is super special for most toddlers. This pool is actually the largest resort pool in all of Walt Disney World Resort.
At the nearby kiddie pool "Schoolyard Sprayground", you will find even more familiar faces from Finding Nemo, in addition to pop-up jets and gushing water.
Watch these dates and plan around them if you are drawn to the Art of Animation because of the Big Blue Pool.  Of course you can choose to use the other 2 pools – Cozy Cone and Flippin' Fins.
The circular Cozy Cone pool, inspired by Cars, is not a bad choice either with a lot of room and shade.
Flippin' Fins Pool with a Little Mermaid theme rounds out the collection of pools at this resort. Note the cabanas are free to use at the Cozy Cone pool on a first come first serve basis.
Activities
Nemo and Lion King's elephant graveyard theme playground areas, as well as a fun underwater-themed "Righteous Reef" playground, are both located at Finding Nemo courtyard.
Movies under the Stars location: grassy area found between The Lion King building and Finding Nemo building.
Arcade location: in the Animation Hall building.
Another plus for this resort is the waiting area at its bus stop is actually covered, which is great for those super sunny or rainy days. And remember this is the only Value resort other than Pop Century that has access to the Skyliner.
Insider Tip
You can actually pick up some basic grocery items from the small store at food court here such as half-gallon milk. You can also go with services like Amazon Now or Instacart to deliver groceries direct to the hotel room.
To wrap it all up
Are Disney value resorts worth it?
Yes, Disney Value resorts provide tremendous value for the right prices for families with young kids. That's why it's extremely popular for a lot of families. You just have to know what you really want to get out of the hotel stay. Forgo the things that are not critical and you can find yourself some on-property Disney World accommodation at reasonable prices.
With the various hotels going through different stages of refurbishment, make sure to take that into consideration. The refurbished rooms represent HUGE improvement over the old rooms.
If you are a family traveling with young kids or toddlers, do not miss this post where I run through my recommendation for the best Disney resorts for kids. I've ranked the hotels in each of the price categories.
Source: room rates from mousesavers.com
Mother of 2 who disguises as a 9 to 5 finance professional on most days. She loves to travel, is an amateur website builder and cook. And given her day job, she loves travel planning and saving money. Follow along!