Step into the glitz and glamour of Hollywood at Disney's Hollywood Studios! This iconic theme park brings the magic of movies to life with thrilling attractions, entertainment, and immersive experiences. In this article, we'll explore the recent updates and changes that have taken place on the Hollywood Studios map during 2022 and 2023. Get ready to discover what's new and plan your next blockbuster adventure!
For a pdf download of the updated Hollywood Studios Map at Walt Disney World, scroll down to the bottom this page.
New Attractions and Experiences:
Hollywood Studios has seen several changes and additions recently.
Attraction
Among the notable updates is the transformation and newly reimagined Pixar Place into a vibrant area with a general Pixar theme. Visitors can now enjoy character meet and greets with beloved Pixar characters such as Edna Mode, Sulley, Mr. and Mrs. Incredible, and Frozone. This reimagined space provides opportunities for fans to interact with their favorite characters and create magical memories.
Dining
Another exciting addition to Hollywood Studios is the opening of the Toy Story Roundup Rodeo BBQ Restaurant. This full-service dining establishment, located in Toy Story Land, offers guests the chance to be immersed in the world of Andy. The restaurant's theme revolves around a rodeo arena crafted from taped-together cardboard boxes adorned with a variety of toys, games, and playsets. With its family-style, all-you-can-eat barbecue, the Roundup Rodeo BBQ Restaurant has quickly gained popularity and has become one of the most sought-after dining experiences in Walt Disney World.
For those with a sweet tooth, the Neighborhood Bakery at Pixar Place has also made a comeback. Here, visitors can indulge in the famous Jack-Jack's Num Num Cookies, known for their deliciousness and association with the beloved character from "The Incredibles" franchise. The reopening of this bakery allows guests to enjoy these tasty treats in the heart of Pixar Place, where they truly belong.
Shows
Entertainment at Hollywood Studios has received a boost with the return of the iconic nighttime show, Fantasmic! This beloved spectacle now features new sequences and characters, adding an extra layer of excitement and enchantment to the show. Visitors can once again immerse themselves in the magical world of Fantasmic! and witness a dazzling display of lights, music, and Disney storytelling.
Accommodation
In close proximity to Hollywood Studios, a new and extraordinary accommodation option has emerged. The boutique Star Wars-themed hotel, described as a "living adventure," provides guests with an unparalleled experience that connects them to the Star Wars universe like never before. This immersive resort offers a unique and fully immersive stay, allowing guests to fully immerse themselves in the epic saga of Star Wars.
Transportation
Additionally, the return of parking lot trams to Epcot and Hollywood Studios has brought convenience and relief to park visitors. These trams, although seemingly insignificant, play a significant role in easing transportation and enhancing the overall guest experience. After a long day exploring the parks, having access to these trams can make a significant difference in guests' comfort and convenience.
Overall, Hollywood Studios continues to evolve and offer new experiences for guests to enjoy, from dining and entertainment to immersive resort stays and character meet and greets.
Updated Official Map: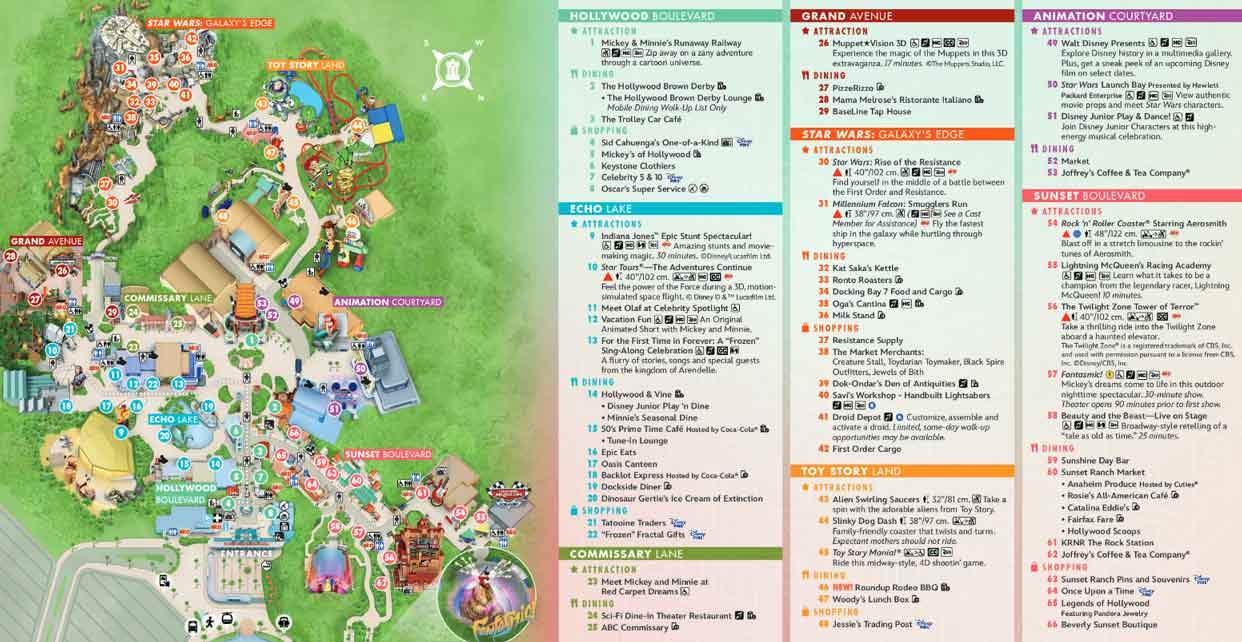 Location
Address
351 S Studio Dr, Lake Buena Vista, FL 34747, USA
Mother of 2 who disguises as a 9 to 5 finance professional on most days. She loves to travel, is an amateur website builder and cook. And given her day job, she loves travel planning and saving money. Follow along!