Embark on a journey of discovery and innovation at Epcot, the Experimental Prototype Community of Tomorrow! This unique theme park celebrates the wonders of technology, culture, and imagination. In this article, we'll explore the recent updates and changes that have taken place on the Epcot map during 2022 and 2023. Get ready to discover what's new and plan your next unforgettable experience!
For a pdf download of the updated Epcot Map at Disney World, scroll down to the bottom this page.
Epcot Transformation
Epcot, one of the four theme parks at Walt Disney World Resort, is undergoing a massive transformation that will culminate by the end of 2023. This renovation is set to introduce new attractions, restaurants, and experiences, while also reimagining existing ones. The park is being restructured into four distinct neighborhoods:
World Showcase,
World Celebration,
World Nature, and
World Discovery.
World Showcase
This part will continue to celebrate global culture and cuisine, with the France pavilion having already expanded with the addition of Remy's Ratatouille Adventure and Le Crêperie de Paris.
Remy's Ratatouille Adventure
This is a recently introduced ride located in the France pavilion of EPCOT's World Showcase. This attraction is a faithful recreation of the original ride found in Disneyland Paris and is situated in a newly developed area at the back of the France Pavilion. It officially debuted on October 1, 2021, coinciding with the 50th Anniversary celebration of Walt Disney World Resort.
La Crêperie de Paris
Visitors can indulge in the culinary delights of La Crêperie de Paris, an exceptional dining establishment that showcases the expertise of renowned celebrity chef Jérôme Bocuse. Chef Bocuse, known for his culinary mastery, has crafted a dining experience that reflects his passion for exquisite French cuisine.
World Celebration
This section will feature a new statue of Walt Disney at Dreamers Point and a new exhibition space called CommuniCore Hall.
World Nature
World Nature section will focus on the beauty of the natural world, with a new attraction, Journey of Water, Inspired by Moana, set to open in late 2023.
World Discovery
The focus here is science and technology, with the Guardians of the Galaxy: Cosmic Rewind attraction having already debuted.

Guardians of the Galaxy
Inspired by the popular Guardians of the Galaxy films in the Marvel Cinematic Universe, another noteworthy attraction has been unveiled. This marks the first time Walt Disney World incorporates characters from the Marvel Universe into one of its attractions. Opening its doors on May 27, 2022, this roller coaster is Epcot's inaugural one and also Disney's first backwards-launched roller coaster.
These changes are expected to enhance the visitor experience, offering more interactive and immersive attractions. However, some existing attractions will be temporarily or permanently closed to make way for these new experiences. The transformation of Epcot is part of Disney's ongoing efforts to keep its parks fresh, exciting, and relevant for visitors of all ages.
Updated Official Map: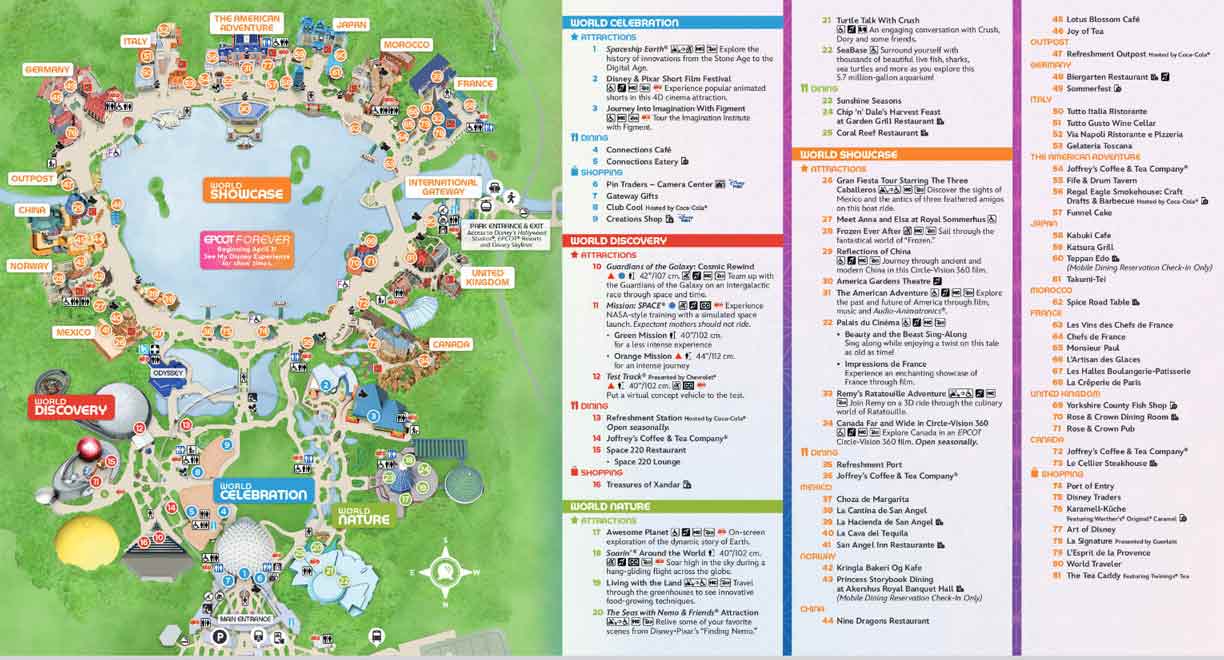 Location
Address
200 Epcot Center Dr, Lake Buena Vista, FL 32830, USA
Mother of 2 who disguises as a 9 to 5 finance professional on most days. She loves to travel, is an amateur website builder and cook. And given her day job, she loves travel planning and saving money. Follow along!