We visited the North Island of New Zealand in 2018 for 4 days (full days). It was a short amount of time to see this vast country. We jam packed as many activities as we can to maximize our time and had tons of fun. Of course we picked what we think is the best that the North Island has to offer. The 4 of us were able to enjoy fully every single activity on the list.
You will find our itineraries heavily skewed to family-friendly activities because we need to make sure the 2 kids are enjoying it. Happy kids, happy parents.
I tried my best to update the information such as hours and prices for each place at the time of writing in 2019. But please make sure to double check for changes subsequent to the post.
This took quite a bit of time to compile so I really hope this will be useful to everyone including families who's looking for ideas for their itinerary to the North Island.
Driving distance indicated below is only indicative. It will depend current traffic conditions so do build in extra time if you have to arrive at the next destination by a certain time.
Highlights
Length: 4 days (full days)
Flew in and out of Auckland Airport (AKL)
Auckland -> Waitomo Caves -> Rotorua -> Matamata (Hinuera) -> Auckland
Highlights: do not miss the Ruakuri Cave!
Day 1 - Auckland (1 Night)​
Dominated by a volcanic peak also known as Maungawhau, with hiking and jogging trails leading to views over the Hauraki Gulf.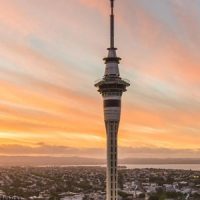 One of the tallest freestanding structures in the world, this impressive downtown landmark is a popular dining and bungee-jumping destination.
Formerly Auckland's busy commercial port, Viaduct Harbour now serves as an upscale residential and dining area.
Day 2 - Waitomo (onto Rotorua)
Ruakuri Cave has an impressive 15m-high spiral staircase, bypassing a Māori burial site at the cave entrance. Tours lead through 1.6km of the 7.5km system, taking in caverns with glowworms, subterranean streams and waterfalls, and intricate limestone structures.
The guided tour of the Glowworm Cave, which is behind the visitor centre, leads past impressive stalactites and stalagmites into a large cavern known as the Cathedral. The highlight comes at the tour's end when you board a boat and swing off onto the river.
If your schedule permits, you can check out the tours offered by either Legendary Black Water Rafting or Kiwi Cave Rafting.
Day 3 - Rotorua (2 Nights)
A natural geothermal area stretching over 18 sq km (7 sq mi). Choose one of three self-guided trails, each of which boasts numerous colorful lakes, rock formations, and mud pools. Enjoy the vivid hues of the geothermal pools, and take stunning shots of the eerie, sulphuric hot springs. Should also check out the Lady Knox Geyser.
Government Gardens boasts a nusery which annually produces 420,000 bedding plants for display within the city's 150 flower beds.
Ohinemutu is a living Māori village set on the picturesque shores of Lake Rotorua.
Kuirau Park, in the heart of Rotorua is New Zealand's only geothermal public park
Day 4 - Rotorua (continued)
Step inside a giant transparent orb and prepare to roll, bounce, and race at OGO Rotorua, the largest ball rolling park in the world.
Adventure centre with a gondola, luge tracks, a high-adrenaline swing, zip-line & panoramic dining.
Revisit Middle Earth at Hobbiton Movie Set, used extensively in both "The Lord of the Rings" and "The Hobbit" film series. As your guide takes you around the Shire, you'll discover just how filmmaker Peter Jackson made his movie magic here. The journey across the 4.8 hectare (12 acre) set includes stops at Hobbit holes, the Mill, and the Dragon Inn, where you'll be able to enjoy a special beverage.
And there you have it, our fully-packed family-friendly 4 day itinerary to the North Island of New Zealand. Everyday was a tremendous experience for us.
Mother of 2 who disguises as a 9 to 5 accountant on most days. She likes to travel, is an amateur website builder and cook.